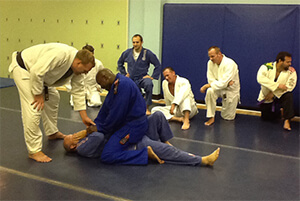 Jiu Jitsu classes for all levels. Ryan Deichert, owner of Tampa Jiu Jitsu, specializes in maintaining the teaching methods of Grand Master Helio Gracie. Ryan spent six years studying at the Gracie academy where he received weekly teacher training sessions with Grand Master Helio Gracie and UFC legend Royce Gracie.
Tampa Jiu Jitsu classes teach Reality-Based Fighting (RBF). Our award winning adult BJJ program focuses on the following:
Takedowns
Striking
Submission

Chokes
Armbars
Kimuras
Triangles

Standing self-defense

Knife
Gun
Standing aggressor

Ground defense and fighting

Judo/wrestling throws
Sambo leg locks
Team sparring
Competition tricks

Open mat sparring
Ryan is well known as a patient and methodical instructor. Proper technique and instruction is paramount in Ryan's eyes. Students that focus on our fundamental Gracie Brazilian jiu-jitsu techniques grow into sturdy martial artists with a solid foundation on which to build their skills. The Tampa Jiu Jitsu Teaching Method gives students focused, organized and informed instruction on their path to a Black Belt, all the while have fun and making new friends.
Give us a call or sign up for a free class.
Testimonials
Definitely worth checking out. One of the best instructors out there. This is a great place to learn Gracie Jiu jitsu!
-Scranton Mma
Before I started Jiu Jitsu, I checked out several places to train, and TJJ was the best I found in the area.
-Brian Busch
i have trained in tampa jiu jitsu for 6 months now and just wish i would of found them sooner.if anyone is looking to train in jiu jitsu this is the place to come, you will learn fast and the right way gracie style!.
-Kenny aka HOT SAUCE……

Share this with your friends