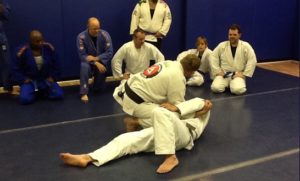 Free Jiu Jitsu self-defense class. Jiu Jitsu self-defense is for everyone. kids, teens and adults. Whether you're brand new or have been training for years, we offer kid and adult classes for all skill levels.
Kids Jiu Jitsu focuses on standing and ground self-defense for school yards and neighborhoods.
Defending headlocks
Escaping top mount
Blocking punches
Choke defenses
Adult classes focus on self-defense for real life situations.
Standing self-defense (knife, gun, punches, etc.)
Ground defense and fighting
Submission (Chokes, Armbars, Armbars, Kimuras, Triangles, etc.)
Takedowns
Striking
Ryan Deichert, Owner and Gracie 3rd Degree Black Belt, has been teaching students for over 20 years and is dedicated to sharing the authentic Gracie System that the late Grand Master Helio Gracie created. Our Gracie Jiu Jitsu Basics Program is safe, energetic and, by far, the best way to get started in the most effective martial art in the world: Brazilian Jiu Jitsu.
There's no hard sell, no future obligation. Simply come in for a free Brazilian Jiu Jitsu class and we'll show you why BJJ is the best self-defense martial art.
Give Ryan a call or fill out the form for a free jiu jitsu class. We'll email you the beginner's guide with everything you need to know for your first class.
Testimonials
Ryan Deichert is one of the best Gracie Brazilian Jiu-Jitsu Instructors in the United States, and Tampa is very lucky to have him teaching and running a school. Now, Ryan is one of my best friends and I am supposed to say nice things, but he really is one of the best students that has come out of the Gracie Academy (Royce and Rorian Gracie) in California and in Hawaii (Relson Gracie).I am very honored to have him and his students represent our family and Team Balance in Tampa…
-Phil Migliarese, 5th Degree Relson Gracie Black Belt
Share this with your friends