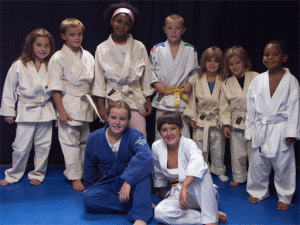 We all want the best for our children and our Kids Jiu Jitsu can assist in building a child's confidence by giving them the skills and ability to defend themselves. At Tampa Jiu Jitsu, kids learn the same Brazilian Jiu Jitsu as adults, but it's taught in a manner that kids will enjoy and have fun doing. Your child will learn:
Stand up defense against:
Headlocks
Takedowns
Punches
Pinned against a wall
Arm grabs
If the fight goes to the ground, your child will be able to:
Defend from his back
Roll aggressor over and take top position
We'll teach your child a variety of techniques to subdue and control aggressors:
Armbars
Kimuras
Triangles
Strikes
Not only are the kids getting a great workout (and burn all that extra energy), they are also laying the foundation for success in sports or the arts, education and life. Children in our classes report better grades; improved energy and athletic ability; increased self-discipline and other assets that help your child as they grow.
Our kids jiu jitsu teaches and emphasizes respect and trust — for instructors, fellow students and oneself. Boys and girls learn self-discipline to make themselves standouts through successful achievement. Children can learn to take pride in themselves and their achievements.
Give us a call or fill out the form for a free trial class.
Testimonial
Tampa Jiu Jitsu has the best kids program. The kids learn TRULY effective self defense.
-Melissa Busch
Share this with your friends